VINTURI RED AND WHITE WINE AERATOR
WINE NEEDS TO BREATHE…  Wine which has been allowed to breathe tastes better. As wine breathes, it opens up, and releases its intended aromas and flavors. Traditionally, decanters were used to aerate wine. However, decanting is time consuming, cumbersome, and inconvenient.
Vinturi's simple Essential Wine Aerator makes the aerating process easy and convenient. This set includes two Essential Wine Aerators–one for red wine and one for white.
ALL THE TASTE WITH NONE OF THE WAIT…Simply hold vinturi over a glass and pour wine through. Vinturi draws in and mixes the proper amount of air for the right amount of time, allowing your wine to breathe instantly. You'll notice a better bouquet, enhanced flavors and smoother finish.  It's that fast. It's that easy.
BUT WHAT REALLY MATTERS IS VINTURI'S EFFECT ON WINE…BETTER BOUQUET…Sample the nose. You'll appreciate the subtle aromatic differences and the full aroma of the wine is more flavorful and has better mouthfeel. Vinturi allows wine to display its intended aromas.
ENHANCED FLAVORS…Go ahead, take a sip. Vinturi's wine tastes better. It is more flavorful and has better mouthfeel. It tastes like a richer, more expensive wine. It tastes like it was intended to and is more enjoyable.
SMOOTHER FINISH…Vinturi's aeration is very effective at softening tannins which results in a much more pleasant finish. Any bitterness or bad aftertaste is reduced or eliminated.
WHITE WINE NEEDS TO BREATHE, TOO!…It's a longstanding myth that white wine does not need aeration. The truth is that white wine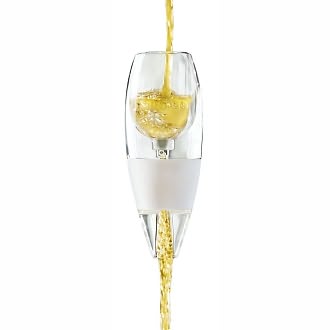 displays the same improvements with aeration as red wine. Vinturi for White Wine has different internal dimensions and flow rates. The result is perfect aeration specifically for white wine.
Made of acrylic, each Essential Wine Aerator comes with a no-drip stand and a travel pouch. And both the aerator and stand are dishwasher safe, while the travel pouch is machine washable. Each measures 6 inches high and 2 inches wide. The glossy, clear acrylic is elegant and clean. But do note that there are two slight fold lines that extend upward from each air hole. These are normal. During manufacturing, material folds around rods and wraps back, and this causes the fold lines. Set of 2.